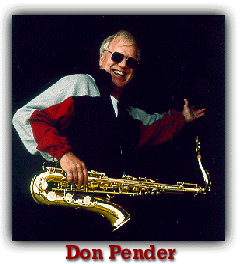 A enjoyable, melodic and swinging collection from the versatile Don Pender.
Jessie Hamlin
(San Francisco Chronicle)
---
Don has a way of composing great vehicles to play on . This double CD has the relaxed feeling of a jazz club. While most of us are still trying to master one instrument Don continues to mystify by excelling on so many different ones. A CD worth having. Check it out!
Dick Conte
(KCSM JAZZ 91)
---
Multi Instrumentalist and composer Don Pender has created a beautiful collection of original compositions and performances that to me are the essence of what jazz is all about Creative Spontaneity Don's mastery of the technical playing and an individual stylistic approach to each of his instruments is quite amazing! This is truly a unique Jazz documentation on the highest level.
Ernie Watts
---
Don's new double CD" Zipperman " shows off his "Tastefully, Unzipped, Sensitivity"
Ed Klitsch (Jazz Vespers, San Francisco )
Don was nominated for a Grammy 1987 for "JAZZ INSTRUMENTALISTS OF THE YEAR" for Europe and Japan.


In 1995 Don designed and built Storyville "a classic jazz club" and restaurant in San Francisco. He has had Elvin Jones, James Moody, Jon Faddis, Roy Hargrove, Wallace Roney, George Cables and many others teach and performed with him at Storyville.


Don started JEF (Jazz Education Friends) a non profit program for young adults, who are interested in learning about jazz.


Don received his BA, BM Degree's from Berklee School of Music 1969 and also his Master's Degree from Boston University in Music Education 1970.


He's played with Buddy Rich, Lionel Hampton and Les Brown and his band of renown on the Dean Martin show.