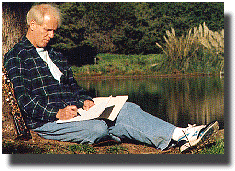 Donald V Pender
555 John Muir Drive Suite B 503
San Francisco, CA 94132
Phone: 415-584-8289
Fax 415-239-4390
E-Mail kwpi@donpender.com

HONORS
1st Villanova Jazz Festivals with Tuffs University Jazz Band under the direction of Charlie Mariano. Finished in top ten in Stan Kenton clinics at Indiana University and University of Connecticut. Recorded 3 albums with Berklee School of Music recording band under the direction of Herb Pomeroy. Finish top ten in class of 1969 Berklee School of Music , received outstanding achievement award at North Redding High School for directing Concert Jazz Band in state wide competition. Voted number one Jazz instructor for Lab Band 1970. Received Silver Record for selling over twenty-five thousand L.P.'s in Europe for tenth album "SANDRA JEAN," on his own label, Sandon Records SD-1001. Nominated for Grammy 1987 "Jazz Instrumentalists" of the year for Europe and Japan. Since coming to San Francisco in 1985 has played in several top Jazz Clubs and been studying Oboe and English Horn with Jim Matherson, Principle Oboist with the San Francisco Opera. Has recorded SD-1002-1007. His latest three are BY-PASS 1V SD-1005, HARDING PARK SD-1006 , STORYVILLE SD-1007.

PROFESSIONAL EXPERIENCE
Played with his own Quartet at Milestones San Francisco, Pier 47 Jazz Club, and Jazz Workshop San Francisco. Played in North Sea Jazz Festival, Kool Jazz Festival, Montreaux Festival(Switzerland) Nice Festival (France) and several Jazz Clubs all over Europe and United States. Has album out "APRIL IN COPENHAGEN" with Kenny Drew, Neils Henning Orsted Pederson, and Al Levit recorded in April 1984,Copenhagen. Recorded his 11th album in San Francisco, August 1986 on Valentine Records VR-1118 titled "DANIELLE" which Don wrote for his daughter, Danielle, with strings. Has played with Bobby Hutcherson, George Cables, Horace Parlan, Ed Thigpen, Ernie Wilkins, Richie Cole, Ron Carter, Richard Davis, Freddie Hubbard , Lionel Hampton , Buddy Rich, Les Brown, Idress Sulliman, Max Roach, Howard Roberts, Billy Higgins, Kenny Clark. Played and recorded with Buddy Rich Band, Lionel Hampton, Les Brown and his "Band of Renown" on the Dean Martin show, Johnny Carson, Merv Griffin , and Dick Cavett T.V. shows. Has done national radio and television shows here and abroad and currently has live video out with Horace Parlan and Ed Thigpen done in Copenhagen, Denmark. Presently residing in San Francisco and working , writing , and recording with his own Quartet. Taught at the " Conservatory of Copenhagen" in Denmark with Thad Jones 1980-1985. In 1995 Don designed Storyville "a classic Jazz Club" and restaurant in San Francisco. He has had Jazz greats such as Elvin Jones , James Moody , Jon Faddis , Roy Hardgrove , Walace Roney, George Cables and many others teach and performed at Storyville. Don started JEF "JAZZ EDUCATION FRIENDS " A non-profit. program for young adults who are interested in learning about Jazz. Don would take the most promising students and form Jazz Quintets and teach them everything he knows about Jazz .

EDUCATION
Attended Berklee School of Music 1965-69 , Boston University , 1970-71 , Indiana University , University of Connecticut , and University of West Virginia ( Stan Kenton Clinics ) during summers 1966-69. Received B.M. , B.A., Degrees from Berklee School of Music 1969. Received M.A. in Music education from Boston University 1970.

REFERENCES (ON REQUEST)
Lionel Hampton, Les Brown, Charlie Mariano, Joseph Viola, Ed Thigpen, Horace Parlan, Ernie Wilkins, Max Roach, Bobby Hutcherson, George Cables, Ron Carter, Richard Davis, Richie Cole, John Handy, Buddy Montgomery, Eugene Wright, Elvin Jones, James Moody, Jon Faddis and Clint Eastwood .